Just yesterday I had the wonderful opportunity to sit in on a Philly 103.9, Boom Session Live. In this session singer and songwriter, Sevyn Streeter, sat down with radio personality, Paris Nicole to discuss her four year wait on her debut album Girl Disrupted, overcoming her battle with depression, and how R&B music is making a comeback with other talented female artist like Solange, Sza, and Kehlani.
Although Girl Disrupted is Streeter's first studio album, Streeter was well prepared for this moment. Streeter started singing as a young girl performing at church, talent shows, and even Show Time at The Apollo. At the age of 15, Streeter entered the music industry, joining girl groups TG4 and later on down the line Rich Girl. And even after that she continued to share her talents with the world. Streeter went on to write songs for Ariana Grande, Alicia Keys, Chris Brown and many more. We all remember Streeter's hit song "It Won't Stop" ft Chris Brown. This song was on Streeter's EP "Call Me Crazy, But." Which sold 17,000 copies the first week. So what took so long for "Girl Disrupted,"? Why the wait?
According to Streeter, Disruption. Streeter told Nicole that there were so many different experiences that disrupted something in her in one way or another. She shared with Nicole that she was disrupted by losing a close friend, finding out some unfortunate news in her family life, going through a public breakup, and just the highs and lows that come with a career she loves. Streeter went on to tell Nicole that it was so important that she included her song entitled "Livin" on her album before she could say it was completed. If you haven't listened to the song yet it's the first song on the album. The first Verse of the song goes:
"I lost a fight with my heart
I lost my way in the dark
On a rollercoaster, up and down
But look at me now, look at me now"
The Pre-Hook, Hook, & Chrous follows along: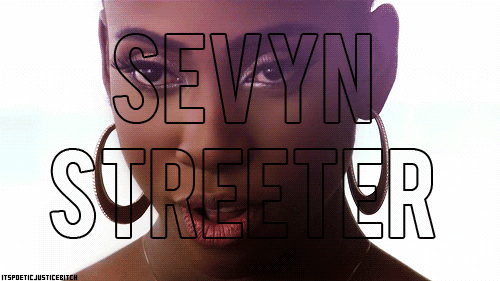 "Got the whole world looking at me, feeling crazy
Hard times in my feelings, suffocating
like they made me
I've been waiting on this moment for a long time
And Imma be damned if I let 'em count me out
And I betting on myself
Oh, I'm living without a care
Gon' sit back and watch 'em stare
Oh, I'm living without a care"
Before even visiting this session at Boom Philly I loved this song because it was something I could relate to on a personal level. But, as Streeter continued talking to Nicole I understood how important it was for Streeter to share this song. She told Nicole that all the disruptions in her life, especially in the last year and a half, began to make her very depressed. To the point that she thought about ending her life. Steeter shared that it was nothing but God that kept her going. And even through the days where she was to weak to pray for herself she had her mom who is a minister, her aunt who is her pastor, and her father who is a prayer worrier behind her. I sat there listening to Streeter stunned. Amazed that this singer, songwriter, and superstar was similar to me. I personally face times where Im too weak to pray for myself but I always remember that even when you're at your rock bottle God will see you through. Streeter told us that Girl Disrupted was more than an album, it was her baby because she shared her story in the music. She sang about betting on herself, and overing coming obstacles, she sang about heartache and the men that hurt her, she made fun records that paid tribute to old school r&b artist. Like her song "Soon As I Get Home" that puts a fun twist on the classic by Faith Evans.
Streeter talked about how this album was a celebration album. Which is why it was released on her birthday, July 7th. She shared that with this album she serviced herself by touching on a little bit of everything. Streeter talked about how right now she feels r&b music is just at the best its been in a long time with albums like Solange's a seat at the table, Sza's Ctrl, and Kehlani's Sweet Sexy Savage. Streeter say's these women inspire her because all the girls are just killing it. And I totally agree. It feels good to have feel good music coming from black and brown woman I can relate to.
It was such an amazing experience yesterday visiting Boom Philly 103.9 for their Boom Session with Seyvn Streeter. Im so grateful I got to hear her story, and take in some of the confidence and positive energy she exudes. I'll definelty have her album on repeat. I can't wait to see what she does next. And if you have not already check out Girl Disrupted available on Apple Music, Tidal, & Spotify. -RAD